Welcome
Yocom & McKee, Inc. is an unique firm employing attorneys, software programmers and affirmative action specialists.

James Yocom and Forrest McKee founded Yocom & McKee, Inc. in October of 1988 after working for a non-profit employers organization with emphasis on labor and employment law. For the last 25 years Yocom & McKee has focused on providing Affirmative Action outsourcing services, and the development of The Complete AAP™ software that allows companies to write their own Affirmative Action Plans.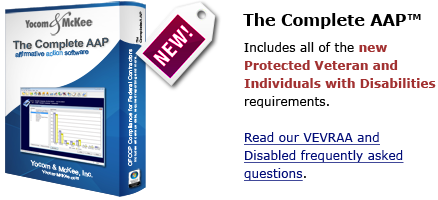 Yocom & McKee's well-trained staff manages services and support for thousands of software and service clients.
More information about your affirmative action obligations as a federal contractor: Obligations as an Affirmative Action Employer